AAUW's Work Smart salary negotiation program has trained over 176,000 workers to negotiate their salary and benefits. Negotiating increases your potential to earn more — and can make the difference for paying off loans, supporting your family, buying what you want and need and saving for the future.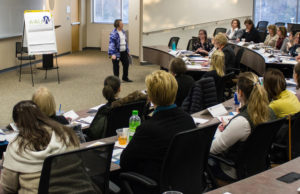 Learn how to research your target salary, highlight your accomplishments and find the right words — and the confidence — to negotiate for better benefits and pay. You can sign up for a free online course which takes less than two hours to complete and can be done at your own pace.
Work Smart Stories
Branch member Anne Swanson's daughter, Ruthanne, took a Work Smart workshop. Later she moved to Washington with her husband and baby and started searching for a new job. When she received an offer she used her salary negotiation skills to ask for a better salary. Ruthanne was thrilled to report to her mom that her new Work Smart negotiation skills resulted in her receiving a higher salary than if she had not negotiated.