AAUW Naperville Area Used Books & Media Sale:
June 12 – 15, 2019
Location: Washington Jr. High School, 201 N. Washington St.
Annual Used Books & Media Sale – June 12 – 15, 2019
Donations:  Affordable Antiques & More is a drop off site for the AAUW Naperville area Used Book & Media Sale. Address is 1508 N. Naper Blvd, Naperville 60563. It is located in the Tower Crossing Shopping Center on the NE corner of Naper and Ogden. Phone is 630-505-1463.
The store hours: M-F 10:30-6, Sat 9:30-6, Sun 11:30-5
Accepting donations of all types of books [except encyclopedia], DVDs and vinyl records. Tax receipts are available.
The AAUW Used Books & Media Sale includes 30,000 hard and soft cover books, DVDs, CDs, vinyl all priced at $1.00 to $2.00 except Fabulous Finds items. Cash and checks only. All proceeds benefit AAUW  scholarships, fellowships and other programs supporting women and girls, which includes our annual Angeline Gale Memorial Scholarship.

Wednesday, June 12 – Sneak Peek 6-9 pm  $10 entry fee
Browse the best selection of books and media to purchase. You can pay the fee beginning at 4 pm; doors open to the sale at 6 pm.

June 13 -15 Free admission
Thursday-Friday, June 13 – 14 – 9 am – 8 pm, hourly sale specials
Saturday, June 15 – Closeout sale 9 am – 12:30 pm. All items 1/2 price or $10 bag except Fabulous Finds collectables
For more information contact Marge Marek by e-mail margaret.marek@gmail.com or Kath Camasto, email kcamasto@att.net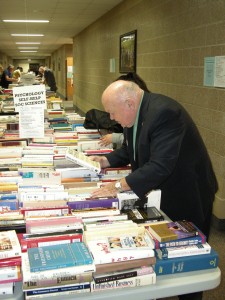 Book Sale History  The first Naperville AAUW Book Sale (which benefited the Coretta Scott King Educational Foundation) was held on October 12, 1969, at the Naperville Women's Club building from 10 a.m. to 6 p.m. The sale included donated books and art objects. All members were asked to donate 1 book and 1 hour of time.  For more history of our chapter, see our Branch History.