AAUW Naperville Area champions equity for women and girls at local, state and national levels. Our mission is bold – to advance gender equity through research, education and advocacy.
Upcoming
Confronting the Rise of School Board Disruptions
Thursday, Jan. 27, 2022, 7 p.m. via Zoom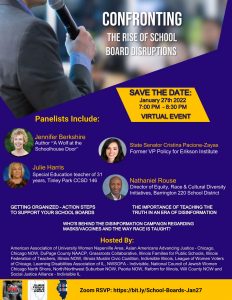 Join Indivisible Illinois, Illinois Families for Public Schools, Social Justice Alliance -Indivisible IL and other co-hosts, including AAUW Naperville Area, for an informative free webinar on Confronting the Rise of School Board Disruptions.
Advance Register
Who We Are and What We Do
AAUW Naperville Area is an all-volunteer 501(c)(4) nonprofit social welfare affiliate branch of the American Association of University Women. AAUW, a national nonprofit nonpartisan organization, has been a catalyst for positive change since 1881. New members are always welcome.
Guided by AAUW's strategic plan, we focus on policy priorities important to achieving equity for women and girls. We:
Provide opportunities for members to connect and engage with other involved people
Offer informative and thought-provoking community programs
Act to advance AAUW public policy issues
Support women's economic security through scholarships to attain higher education and Work Smart online salary and promotion negotiation training
Encourage women to prepare for and assume leadership roles
Promote STEM careers for women.
Membership Info