AAUW (American Association of University Women) advances gender equity for women and girls through research, education, and advocacy.
Dear members and community friends,
AAUW Naperville Area public programs are cancelled through June 30, including the community Used Book & Media Sale. Funds raised at the sale help women complete college educations, send women student leaders to leadership conferences, and fund research and policy actions to improve the lives of women and their families.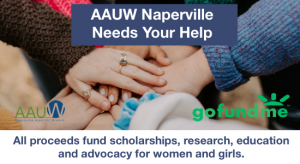 Take our free online AAUW Work Smart course to improve your salary negotiation skills so you don't leave money on the table! Other ways AAUW empowers women and girls:

Provide fellowships and scholarships
Sponsor National Leadership Conference attendees
Offer Work Smart online course on negotiating skills
Provide monthly informative programs open to the public
Inform public of issues impacting women and girls
Sponsor Tech Savvy event for girls to explore STEM careers
Support plaintiffs in discrimination cases
Conduct research on equity, leadership gender gap and other issues affecting women
Consider membership in AAUW!
Join us for education, community programs, legislative advocacy, research and scholarships for women.    We welcome new members to join our branch. Grow the Branch membership campaign is ongoing.   Contact us: aauwnaper@gmail.com

ERA Action – Illinois Approved the US Constitutional Equal Rights Amendment.
The adoption of this US Constitutional amendment is designed to guarantee equal rights for all citizens regardless of sex; it seeks to end the legal distinctions between men and women in terms of divorce, property, employment, and other matters.

May 8th over 250 women rallied at 11 am in Springfield and talked with representatives. asking for equal rights for all women in the USA.
 79 Examples Poster of How Women Are Still Treated Unequally.
Tech Savvy Program for middle school girls
Girls chose from 12 hands-on science, technology, engineering or math activities such as robotics, DNA, apps, electric circuitry, architecture or astronomy as well as personal savvy skills workshops in the afternoon.
The Naperville AAUW branch is co-sponsoring this program and assisting as volunteers in coordinating the participants and supporting workshop presenters.
Why So Few  A panel of experts discuss why so few women are in Science, Technology, Engineering and Math careers. Research report (pdf document.)
Past Program Highlights:
Women Who Shaped Naperville's History
Rena Calabrese, CEO & President of Naper Settlement, shared stories and artifacts demonstrating the important role of women in Naperville history.