AAUW (American Association of University Women) advances equity for women and girls through advocacy, education, and research. AAUW Naperville Area, IL branch began April 20, 1956.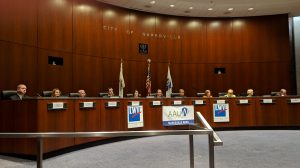 Watch the March 4th mayoral candidate forum with Steve Chirico and Rocky Caylor here: http://naperville.granicus.com/player/clip/1233?  Among the issues discussed were affordable housing in Naperville and the 5th Avenue development.
Watch the March 12th Naperville City Council candidate forum. Candidates answered questions about TIF districts, 5th Avenue, city finances & garbage, and Planned Parenthood.
http://naperville.granicus.com/player/clip/1237?view_id=2
2019 Great Decisions international policy discussions
begins Thursday evening, 7 pm
January 24th – March 21, 2019.

  NCCWSL (National Conference for College Women Student Leaders)
Naperville Area AAUW Sponsored Attendees Travel to Washington D.C. in June. Leadership lessons learned at NCCWSL.

2019 is the seventh year the Naperville Area AAUW branch has sponsored college student leaders to attend the National Conference for Women Student Leaders.  Melissa Higgins of North Central College and Adia Dixon of Benedictine University have been selected for the 2019 conference.
The life changing conference includes a series of leadership sessions and keynote speakers. In an evening ceremony, awards are presented to women of distinction and participants are able to talk with these outstanding women. Also, there are opportunities to visit Washington, DC and talk with women who work on Capitol Hill.
Give a grad a gift – a free membership in AAUW!
Join us for education, community programs, legislative advocacy, research and scholarships for women.    We welcome new members to join our branch. Grow the Branch membership campaign is ongoing.   Contact us: aauwnaperville@hotmail.com
May 2018 AAUW Naperville Area Awards Brunch
Every year we recognize a Naperville-area woman who has demonstrated through her actions an exceptional level of commitment to the community; has, through her actions, supported the advancement of equity for women and girls, and is recognized by the community for her leadership and accomplishments.
This year's AAUW Woman of the Year, Karen Jarczyk, LSW, CSADP, who is Prevention Director at 360 Youth Services. Karen Jarczyk began her journey in youth crisis prevention over 35 years ago when she started as the full-time crisis intervention director for Naperville Community Outreach in an office next to Beidelman's Furniture in Downtown Naperville.
Karen's contributions to the community and achievements include the following:
She has pioneered prevention education in our community, which impacts all students in both Naperville District 203 and Indian Prairie School District 204, DuPage County and beyond. She expanded and institutionalized programs like The Power of Choice and Naperville Operation Snowball, a drug-prevention program. One of Karen's latest accomplishments is establishing the Community Alliance for Prevention, which was made possible by her management of a successful grant application and award of a federal grant of $625,000 over five years to establish a community collaboration aimed at lowering youth use rates for marijuana, alcohol and prescription medication for non-medical use.
Karen Jarczyk also is an early champion of the LGTBQ community and organized Naperville's first LGTBQ support group. Karen has forged local and regional partnerships and has mentored many young women, some of whom are now returning to work for 360 Youth Services after they participated in Operation Snowball when they attended school.
Angeline Gale Memorial Scholarship Awardee – Heather Hovinen
Ms. Hovinen, who is married with an 8-year-old daughter, is a junior in the Honors Program at the University of Illinois at Chicago, where she is pursuing a degree in psychology and has a G.P.A. of 4.0. In addition to her classroom studies, she is also a research assistant, and was selected to perform a literature review concerning eating disorders and implications of treatment with a professor at the university. Heather is working on research studies with adolescents with depression. She received the Angeline Gale Memorial scholarship of $5,000 and is planning to complete her degree by next spring.
ERA Action – Illinois Senate & House Approved the US Constitutional Equal Rights Amendment.
The adoption of this US Constitutional amendment is designed to guarantee equal rights for all citizens regardless of sex; it seeks to end the legal distinctions between men and women in terms of divorce, property, employment, and other matters.  The IL Senate approved the amendment by passing Senate Joint Resolution CA4 in April, and the IL House in May, 2018.
May 8th over 250 women rallied at 11 am in Springfield and talked with representatives. asking why not give all women in the USA equal rights by ratifying the ERA?  
 79 Examples Poster of How Women Are Still Treated Unequally.
#StandUptoSexism
Add your voice/image to the Twitter campaign!
Tech Savvy Program for middle school girls
Girls chose from 12 hands-on science, technology, engineering or math activities such as robotics, DNA, apps, electric circuitry, architecture or astronomy as well as personal savvy skills workshops in the afternoon. In 2019, the Tech Savvy Program will be at Lewis University in Romeoville IL on March 23, 2019.
The Naperville AAUW branch is co-sponsoring this program and assisting as volunteers in coordinating the participants and supporting workshop presenters.
NEW AAUW Research Leadership research report: Barriers and Bias
The research is based on the issue of why the number of women in leadership roles is less than men. The report identifies reasons and how to address them to change the situation. A key factor is implicit bias. You can take an online quiz to determine your level of implicit bias against women in leadership roles.
Research report: Solving the Equation
From the research team who brought you Why So Few? Women in Science, Technology, Engineering, and Mathematics comes a deeper dive into engineering and computing, fields that offer 80 percent of STEM jobs but still boast dismal numbers of women students and workers. Solving the Equation focuses on engineering and computing fields.
Why So Few  A panel of experts discuss why so few women are in Science, Technology, Engineering and Math careers. Research report (pdf document.)
Past Program Highlights:
Immigration Facts & Challenges:
Immigration has been a "hot" topic for almost all of our history. Presentation of the facts about immigrants' legal status and economic issues such as welfare, wages and ability to pay taxes. Discover the challenges today's immigrants have to face and how our immigrant population is changing.  Our expert speakers: Susan Bachmeier, Immigrant Legal Services Senior Specialist, and Shirley Sadjadi, Principal Attorney and founder, law offices of Shirley Sadjadi, Elgin IL.
April 2017 Program: President of College of DuPage, Dr. Ann Rondeau, the second woman ever to achieve the rank of three-star admiral with the U.S. Navy shared her experiences as a successful woman in a predominantly male-led environment, COD's regional impact and her vision for the College's future. She is a past president of the National Defense University, a consortium of five colleges and nine research centers in Washington D.C.
February 2015 Human Trafficking in Our Own Backyard
Human trafficking in DuPage/Will/Kane counties: get the facts, learn the extent of the crime, local anti-trafficking coalitions, human service agencies and how you can help.
  Naperville Area AAUW Facebook page