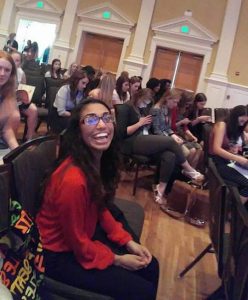 Support from our members and donors makes it possible to:
Provide scholarships and fellowships
Sponsor National Conference of College Women Leaders (NCCWSL) attendees
Educate and provide action steps on issues impacting women and girls
Provide mission-based educational community programs
Offer Work Smart online courses on negotiating skills
Encourage girls to explore STEM careers
Support female and male plaintiffs in gender discrimination cases
Conduct research on economic, educational, leadership and other issues affecting women
If you are inspired, please donate today.
Ways to Give
Donate to AAUW Naperville Area via Paypal.
Donate Now
Donate by mail. Send a check payable to AAUW Naperville Area to:
AAUW Naperville Area (IL), P.O.Box 4662, Naperville, IL 60567-4662
AAUW Naperville Area is a 501(c)4 nonprofit social welfare organization. Donations to the branch are not deductible as charitable contributions but may be deductible as business expenses.
You also may donate directly to AAUW Funds at the national level. You can make your donation in honor of AAUW Naperville Area Branch IL4049, or memorialize someone special. AAUW Funds is a 501(c)3 charity and contributions are tax-deductible. For more about giving at the national level, visit aauw.org.