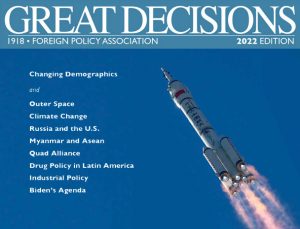 Sponsored by the Foreign Policy Association, Great Decisions is America's largest discussion program on world affairs. The program involves reading the Great Decisions Briefing Book and meeting to discuss the most critical global issues facing America.
Our discussion groups are administered jointly by AAUW Naperville Area and Naperville Public Library, and are open to the Naperville area community. Due to AAUW policies regarding COVID19, the groups will meet on Zoom in 2022.
The discussions are free but a briefing book is required to fully participate. Purchase a 2022 book from the Foreign Policy Association in electronic or print versions.
EVENING GROUP – Nine weeks. Meets Thursdays, 7:15 – 8:45 p.m., January 20 – March 10, and March 31, 2022. To register for Zoom invitations, contact Becky, beckyglimco@gmail.com.
DAY GROUP – Nine weeks. Meets Tuesdays, 9:30 – 11 a.m., January 18 – March 15, 2022. To register for Zoom invitations, contact Lee, leeeastman44@gmail.com.
2022 Topics
Each topic provides historical background, examines the subject impartially, explores options facing citizens and policymakers, and debates the implications.
Changing Demographics

Outer Space

Climate Change

Russia & the U.S.

Myanmar and ASEAN

Quad Alliance

Drug Policy in Latin America

Industrial Policy

Biden's Agenda