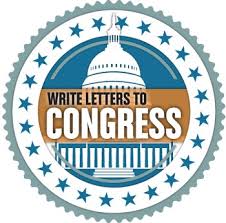 You've been urged to 'write letters to congress' all your life, but what do you actually put in that letter? Here's our suggestion on one topic:
Dear Congressional Representative or US Senator (fill in the name of your specific US Congressional representative):
As your constituent, I am writing to urge you to support the right of every woman to access safe, high quality, affordable, and comprehensive reproductive health care and vote NO on any attempt to limit or restrict this right. This would include:
supporting women's reproductive choices
supporting economical health care clinics that provide cancer screenings, birth control,and STD testing for women and men, such as Planned Parenthood
access to abortion without burdensome regulations that restrict these rights
Every woman should be able to access affordable, critically needed, quality preventive health care and to make informed decisions privately with her doctor and based on her own personal beliefs. I ask you to oppose any efforts to restrict women's access to reproductive health care.
Thank you, and I look forward to your response.
Sincerely,
Your name
Address with zipcode