While domestic violence affects all populations, the transgender community find themselves at especially high risk.  31%-50% of transgender people have experienced domestic violence, v.s. 28% to 33& of the general population
According to the National Coalition of Anti-Violence Programs, 
72% of reported hate murders against LGBT people and people living with HIV in 2013 were committed against transgender women, with

67% of these murders against transgender women of color. 
Unfortunately abuse of transgender people can start at a young age.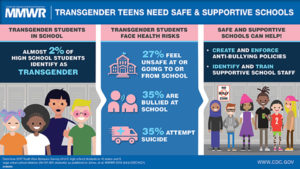 Action Steps You Can Take