Tuesday, April 13, 2021, 7 p.m. Virtual
STEM degrees are promoted as a path to success, especially for women. What can you do with an engineering degree? Learn about the innovative and technical achievements of three local women engineers who work on futuristic projects such as the Mars Perseverance Rover, Electronic Measuring Instruments, Automated Cars and Robotic Birds. Discover how to support women and girls interested in STEM and tips on college and career choices.
Speakers
Alyssa Harder, Sales Manager @Rohde & Schwarz
Alyssa Harder is a woman in a wireless world, with over a decade of experience working in Test & Measurement at global, privately-held technology firm Rohde & Schwartz. She enables developers of all sorts of electronic devices that contain batteries, plugs or antennas to test and improve their designs prior to launch. Alyssa is a University of Illinois graduate with Bachelor of Materials, Science & Engineering, and MBA degrees.
Amanda Stowers, Mechanical Test Engineer @Zoox
Amanda Stowers is a mechanical engineer with experience in a variety of industries. She has a mechanical engineering degree from the University of Illinois at Urbana-Champaign and a PhD from Stanford for her work on analyzing how bird wings change shape and developing two robots with unique shape-changing wings. She continued working on bio-inspired mechanisms at Dash Robotics, a small startup making robotic children's toys, where she was the only female engineer. In her current position at Zoox, she tests computers to ensure that the company's autonomous automobiles are safe and reliable.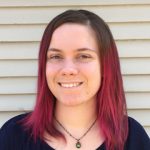 Tiffany Oken, Production Engineer @Chemring Energetic Devices
Tiffany Oken is a manufacturing engineer at Chemring Energetic Devices, where she is the lead Responsible Engineer for Initiator and Detonator Production for customers such as NASA and SpaceX. Chemring's Initiators and Detonators can be found on multiple spacecraft including SpaceX's Falcon 9 and the Mars Perseverance Rover. Tiffany has a B.S. in Mechanical Engineering from Hope College in Holland, Michigan.