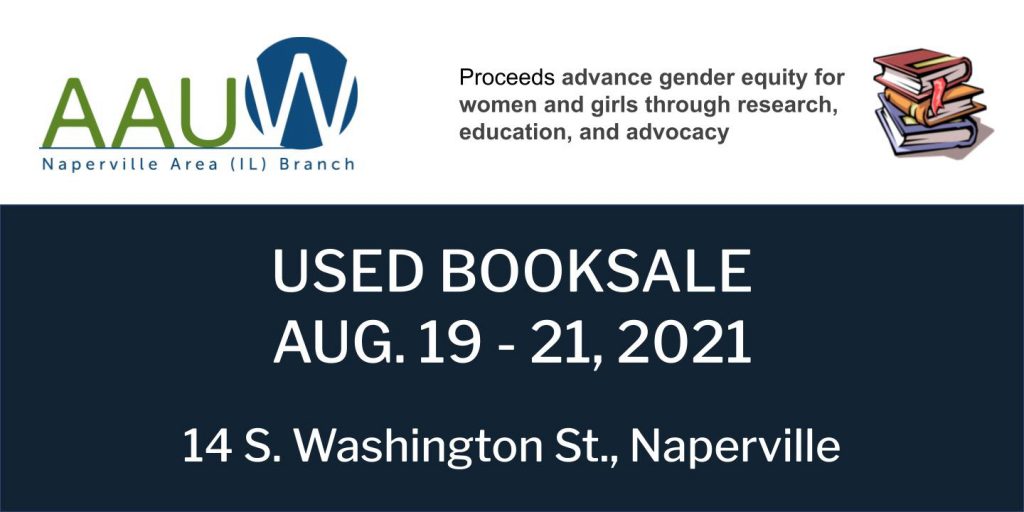 Our popular community used booksale returns August 19-21 in a new venue & format. We can't wait to share all the great books donated for this fundraiser benefiting research, education and advocacy for women and girls!
Find popular fiction, children's books, history, memoirs, cookbooks, classics, sports, business, travel and more — all $1 – $2 each. Special Fab Finds books are individually priced $5 and up. Books will be displayed but may not be categorized so get ready to seek for treasures!
NEW LOCATION

– Old Stone Church, 14 S. Washington St. in downtown Naperville 

Follow signs and enter at the back entrance. Free parking is available in the Naperville parking deck across Washington Street and near Central Park. A short-term loading zone is available near the back entrance.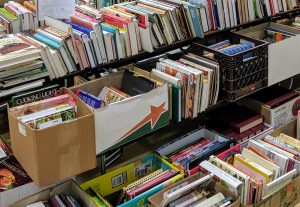 The early bird gets the (book)worm with EXCLUSIVE FIRST LOOK shopping THURSDAY, AUG 19, 2021, 9 – 10:30 AM
Doors will open to an exclusive group of 40 shoppers with advance tickets from 9 – 10:30 a.m. on Thursday, August 19. Paid ticket holders only, please. Children will not be admitted free until 10:30.
Purchase a $20 Early Bird Access ticket and receive:
First look sale access from 9 to 10:30 AM + all-day access
Coffee / tea
Help loading your car with all of your great finds!
THURSDAY, AUG. 19, 2021 10:30 AM – 1:00 PM – $15 at the Door (kids under 12 free with paid adult)
THURSDAY, AUG. 19, 2021, 1 – 7:30 PM – FREE Admission
FRIDAY, AUG. 20, 2021, 9 AM – 7:30 PM – FREE Admission
SATURDAY, AUG. 21, 2021, 9 AM – 1 PM – BAG DAY CLOSE-OUT – FREE Admission – Everything 1/2 price or $10 per grocery bag (excluding Fab Finds)