The Fight for Reproductive Justice Continues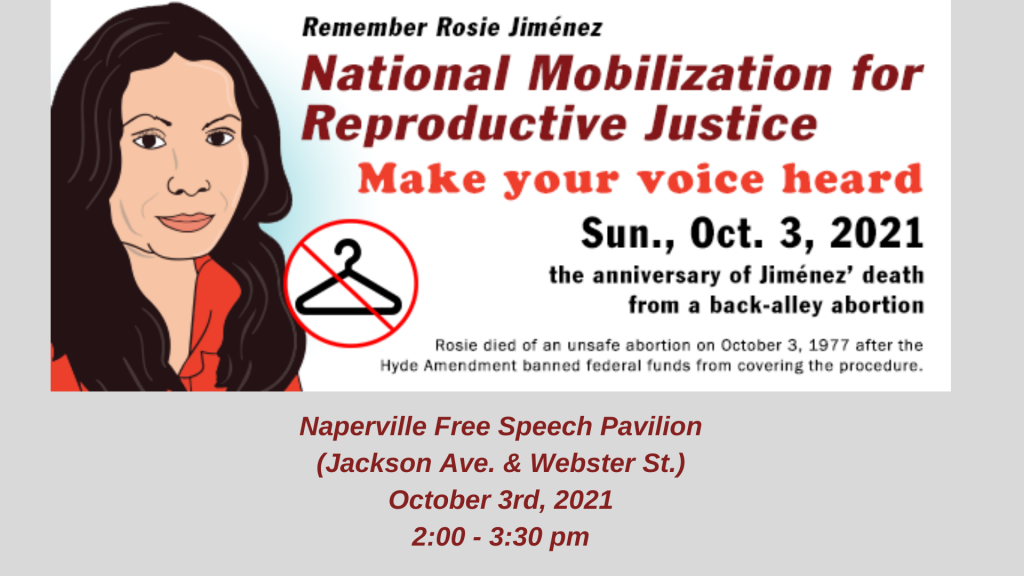 AAUW has long supported all elements of Reproductive Justice, though the terminology has evolved: "AAUW supports choice in the determination of one's reproductive life and increased access to health care and family planning services." (2)
As we have seen recently, states continue to erode reproductive justice and enact statutes, unchallenged by the U.S. Supreme Court, making this country less safe for women. October is an important month. It is the anniversary of Rosie Jimenez's death in 1977 — she died from complications of having a nonmedical abortion after implementation of the Hyde Amendment. And it is the month when the U.S. Supreme Court will review a restrictive law in Mississippi that may determine the future of Roe v. Wade.
To raise your voice during this critical time, please join us on October 3rd at the Free Speech Pavilion in Downtown Naperville (Jackson Ave. and Webster St.) from 2:00 – 3:30 PM to rally for Reproductive Justice.  Wear your AAUW T-shirt! We join Radical Women and Illinois NOW in this local event that is part of a national mobilization movement.  
Reproductive Justice goes beyond the support of pro-choice legislation and policies. It seeks to ensure that all systems support a person's right to make decisions about their reproductive health and to carry out those decisions in a healthy manner.  
"Reproductive Justice is the complete physical, mental, spiritual, political, social, and economic well-being of women and girls, based on the full achievement and protection of women's human rights. This definition offers a new perspective on reproductive issues advocacy, pointing out that for Indigenous women and women of color it is important to fight equally
for the right to have a child; 

the right to not have a child; 

and the right to parent the children we have, 

as well as to control our birthing options, such as midwifery. 
We also fight for the necessary enabling conditions to realize these rights. This is in contrast to the singular focus on abortion by the pro-choice movement that excludes other social justice movements." (1)
For more information about Naperville's Reproductive Justice Rally click here: https://fb.me/e/3LH7W7kOm
Sources:
(1) https://www.law.berkeley.edu/php-programs/courses/fileDL.php?fID=4051
(2) https://www.aauw.org/app/uploads/2020/03/quick-facts-repro-rights-nsa.pdf