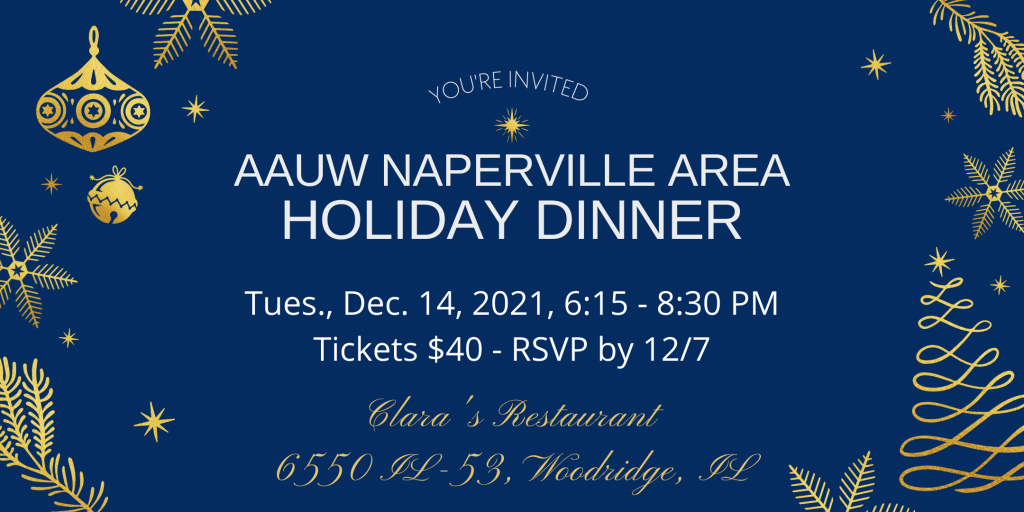 Tuesday, Dec. 14, 2021
6:15 p.m. Social,
6:45 p.m. Dinner
Get together with AAUW friends and celebrate the season at Clara's Restaurant – A Taste of Italy, 6550 Rt. 53, in Woodridge, IL. Tickets $40. Please RSVP by Dec. 7.
Buffet Menu
Bruschetta Di Roma — Insalata Caprese** — Clara's Garden Salad** — Cheese Tortellini w/ Marinara Sauce — Chicken Limóne w/ Primavera Vegetables** — Chicken Parmigiana w/Marinara Sauce** — Tiramisu, Cannoli
Soft Drinks, Tea, Coffee included. Alcoholic beverages are extra.
** Indicates Gluten Free. A gluten-free dessert option (Lemon Ice) is also available upon special request. Please indicate if you require Lemon Ice at reservation checkout.
Health & Safety
For the health and safety of our members, in order to attend the AAUW Naperville Area Holiday Party we are requiring:
1. Proof of vaccination (digital or paper) required at room entry.
2. Masks must be worn at all times except while eating or drinking.
The following additional safety steps have been implemented:
— Attendance will be limited to 36 people. We are dining in Clara's largest room which can hold 40-65 people. Tables will be set for 6 people instead of 8.
— Appetizers, salad, and entrees will be served buffet style by masked and gloved servers. Dessert will be served separately.
— There will be hand sanitizer on every table.