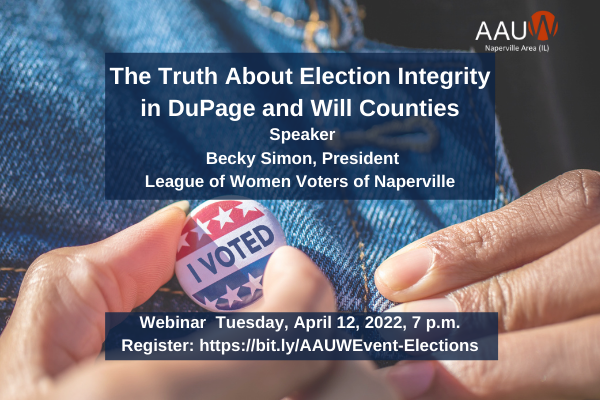 Tuesday, April 12, 2022, 7 PM
False claims about the 2020 Presidential Election are still rampant. Nineteen states have passed restrictive voting laws in the last year.  What is the state of election integrity in DuPage and Will counties?
Just in time for the June 28 primary election, Becky Simon, President of League of Women Voters of Naperville, will share important information about our local voting processes. Learn how ballots are collected and processed, in-person versus mail-in voting procedures, and how equipment is tested. Becky also will talk about chain of custody, e-poll books, the DuPage County recount, and new DuPage County paper voting machines.
Don't miss this opportunity to learn from an expert about our local voting processes and get ready to encourage voting and counter disinformation!
Register Now
About Our Speaker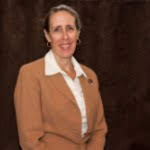 Becky Simon is a second-generation member of the League of Women Voters and a proud graduate of the AAUW Waukegan pre-school (her mom was an AAUW member!). Becky was on the LWV of Naperville team that successfully flipped an Illinois senator's vote for the ERA in 2018. She is keenly aware of our need to actively participate in our democracy. In June, Becky will pass the baton of LWV of Naperville president and move into a new role as chair of Issues and Advocacy. She is also a member of AAUW Naperville Area.