AAUW Naperville Area was honored to sponsor Sam Selakovich, a senior at North Central College (NCC), to attend the 2023 National Conference for College Women Student Leaders (NCCWSL) at the University of Maryland, College Park, in early June.
Sam's major is Political Science with a minor in Theatre and Global Studies. She served as the interim president of NCC's N.O.W. Chapter, as an orientation staff member, and as a first year mentor.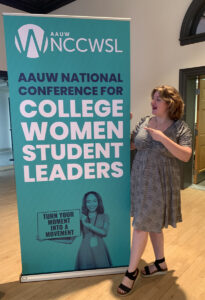 Her goals for the conference included gaining knowledge to build on skills valued in her career path of working for a nonprofit or lobbyist group to progress the efforts of social issues. She noted, "In a time where decades of coalition building and activist efforts have been completely uprooted, it is not only my personal civic duty to apply my newfound knowledge to a politically active career, but it is also my responsibility to utilize the knowledge to continue the work of earlier generations who paved the way." 
She shares these reflections on the the conference:
"I met a group of wonderful women from all across America (Wisconsin, Maryland, California, Texas and New Jersey). We even have a group chat from the conference that we still use for life updates or even if someone needs boosts of encouragement. I made a lot of great professional connections as well as gained a lot of useful information at the sessions.
I had a lot of first experiences during this trip, such as flying on a plane by myself, experiencing Washington, D.C., and going to a conference. I cannot thank [AAUW] members enough for this beautiful opportunity and I will not waste an ounce of applying this special experience to my life."
Best wishes, Sam! We can't wait to see what you achieve.