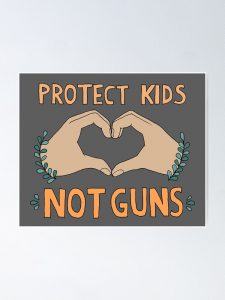 Every year in the United States, nearly 350 children aged 17 and under gain access to a firearm and unintentionally shoot themselves or someone else. In 2020, according to data by the Centers for Disease Control and Prevention, 4,368 Americans under 19 years old died from gun violence. Gun violence is now the number 1 cause of death of children and teens. 
In 2020, 1,293 children, age 19 and under, died by suicide with a gun.
In 2021, 693 adults and children were killed in a mass shooting by someone with a history of abuse or violence.
Last year, 840 women were killed by a current or former domestic/romantic partner or a family member. In addition, 4.5 million women reported being threatened with a gun by an intimate partner.
What can we do? Advocate for the following evidence-based policies to keep our families and communities safe:
Keeping Guns Out of the Wrong Hands – A Better Background Check System. Lawmakers need to close loopholes in the system, such as those that allow people to buy guns without a background check or if the background check takes longer than 3 days (Charleston loophole). 
Protecting Kids and Communities – Supporting Red Flag Laws and Responsible Access to Firearms. To keep our families safe from mass shootings and reduce gun suicides, lawmakers must pursue policies like Red Flag laws, which allow family and law enforcement to intervene if someone poses a threat to themselves or others, before deadly tragedies involving firearms take place. Lawmakers must also limit easy access to firearms and accessories capable of inflicting mass casualties and encourage safe and responsible storage of all guns. 
Addressing America's Uniquely Lethal Domestic Abuse Problem – Disarming Domestic Abusers. More than half of women murdered with guns in America are killed by an intimate partner or family member, and women are five times more likely to be killed in a domestic confrontation when a gun is present. Lawmakers must strengthen laws that help keep guns out of the hands of domestic abusers. 
Combating Daily Gun Violence – Supporting Research, Law Enforcement and Local Solutions. The government needs to support law enforcement, researchers and local communities in their efforts to combat daily gun violence by funding new research into gun violence; community-driven, evidence-based interventions to curb city gun violence; and new tools to help law enforcement collect evidence, trace all crime guns, reduce trafficking and solve gun crimes. 
Taking Responsibility for Gun Safety. Adults should always assume that curious or impulsive kids may find and touch an unsecured gun, even if they've been told not to. If a child handles a gun, a bad decision can quickly become a fatal one. Be SMART adults protect kids by storing guns locked, unloaded and separately from ammunition, and by making sure children are never in the presence of unsecured guns. 
Share the Moms Demand Action's SMART message:
Secure

all guns in your homes and vehicles;

Model

responsible behavior around guns;

Ask

about unsecured guns in other homes;

Recognize

the role of guns in suicide;

Tell

your peers to Be SMART.
Call your Illinois State Representative's office and ask them to support these bills. Help State Representative Maura Hirschauer move two assault weapon registry and ban bills through to committee by asking your State Representative here in Illinois to co-sponsor the bill. They've been working on this for a while…but now is the time…we have the momentum. Call them and tell them you would like them to co-sponsor HB 5522 and HB 3222. 
Know where your candidates stand on gun safety issues. It's time for our government to enact common-sense gun safety laws supported by the overwhelming majority of Americans. If our elected officials choose not to act, we can mobilize to vote and replace them with leaders who will. 
Join and donate to a group that works for common sense gun safety regulation:
https://momsdemandaction.org/start-here/