March for abortion rights! Vote for abortion rights in the midterm elections!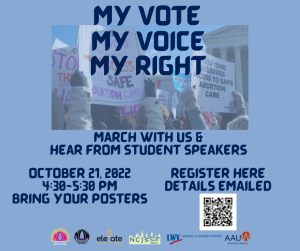 The real test of reproductive rights in Illinois will be the November 8 election.
All people deserve access to quality health care, including abortion services, and the privacy to make reproductive choices. For over 50 years, access to safe abortion was an assumed right across the country. This year voters will determine the future of access to safe abortion in Illinois through the judges and lawmakers you elect.
Join Naperville area students and advocates in reminding our community that your vote is your voice as we march right here in Naperville! We will hear from student speakers about how critical abortion rights are to their collective futures.
Friday, October 21st 
4:30 – 5:30 PM
Downtown Naperville
Please PRE REGISTER. Location details will be sent on October 17 to your registered email address.
Pre-Register Now
The march will be short, less than a mile, and will happen rain or shine. Make your poster in advance! Bring friends. Spread the word and plan to join us! AAUW Naperville Area is co-sponsoring this march with other local allied groups, including student groups.